Discover the jewels of the Loire Valley sculpted in the limestone
Located in Saumur, Stone and Light Is certainly the prettiest miniature park in the world.
In a dream underground setting, the most beautiful churches, cities, villages et Loire Valley castles are carved from soft tufa stone.
Each work is a hymn to the beauty and work of the builders.
The visit route discover about twenty sculpted places down to the smallest details, sometimes directly in the wall, by the artist Philippe Corman. It is, for all audiences, an educational and artistic walk, another look at the architectural heritage ofAnjou and Touraine.
Chapel and Tower of Trier

It is one of the most charming and characteristic sites in the Loire Valley.

The keep is the only remaining part of a castle that no longer exists.

Castle of Montsoreau

Castle carved in a giant block of 5 tons.

Feudal fortress having evolved into a Renaissance-style pleasure residence.

Church of Chênehutte

One-piece sculpture made at 1/30e.

Church of Pontigné

The Saint Denis church, with its twisted bell tower, is a beautiful monument of Angevin architecture called "Plantagenêt", renowned for its exceptional frescoes and interior polychrome paintings.

Panorama City of Chinon

Panoramic sculpture in the round, view of the Doutre, 4 meters opening.

Saint Maurice Cathedral was built in the second half of the 12e century.

Village of Old Baugé

It is a set of 12 tons, the technical prowess was to realize the twisted bell tower.

The Baugeois has 6 churches with a twisted bell tower grouped around the town of Baugé.

Panorama of the city of Saumur

It is the most popular bas relief for visitors, it is 12 meters long and 2 meters high. Water comes naturally from groundwater.

Tours Cathedral

Monobloc sculpture of 5 tonnes and 2,2 meters in height.

Everything was sculpted using dentist tools. Visitors tell us all: "It's lace, the central rosette is wonderful!"

Cloister of Fontevraud Abbey

Sculpture made in the wall, 10 tons extracted from a depth of 2 meters, 2 months of work. The cloister, in the center of the monastery, is composed of a central garden and four galleries forming an enclosed space. This place of silence, conducive to walking, is also a place of prayer, its architecture making it possible to free the gaze towards the sky.
Destination Family!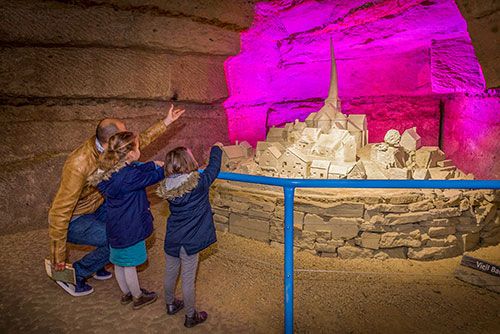 Discover the secrets of the sculptor...
Young and old will be able to exchange around a treasure hunt both entertaining and educational. A lot of observation, a little reflection to discover the hidden secrets in tufa stone by the sculptor Philippe Cormand.